We are proud to announce that we have just launched our largest product update ever – our newly designed Laboratory Storefront platform which consolidates lab management tools in order to optimize project management and internal workflow for Science Exchange laboratories.
Our vision for Science Exchange has always been to improve the efficiency of scientific research through tools that promote collaboration. We've spent the past three years towards this goal, building a marketplace for researchers to search and order over 2000 experiments, and helping labs to promote and manage these services online. The Laboratory Storefront is a critical step towards streamlining and improving our laboratories' internal processes.
This new platform is based on months of feedback collected from our trusted board of advisors and lab administrators, who'd indicated a need for easier order management and financial reporting.
But, don't take our word for it, below is what some of our Laboratory Advisory Board members are saying:
"As a provider, the new storefront provides me with real time metrics about my facility and our work combined with the ability to easily and rapidly update my storefront.  I can quickly respond to trends and changes, positioning me to better serve researcher's needs." – Deborah Berry, Assistant Director of the Histopathology and Tissue Shared Resource at Georgetown University

"The new storefront allows our customers to search through a complete list of our services and obtain an automatic estimates for projects. The service reduces our time in the office, increases our exposure to clients, and lets us focus our efforts on the research at hand." – Ben Woodard, Director of the Bioprocess Scale-Up Facility at University of Maryland
"I'm excited about Science Exchange's new storefront, which promises to improve an already great interface by streamlining the ordering process and facilitating communication with clients. Also appreciated is the increased visibility to prospective clients, which is always a priority." – John Repass, Chief Scientist at ARQ Genetics
The Laboratory Storefront is available immediately for free to all core facilities and contract research organizations (CROs). Tools included in the first launch include live order tracking, FEDEX and UPS shipment updates, and an easy-to-use export function for financial reporting. Additional marketing tools have also been added to assist administrators manage their Laboratory Storefront's online presence. These include a laboratory info and testimonials section with in-line service editing.
We'll review these features in more detail below. Registered labs can access their Storefront immediately by logging in at scienceexchange.com. New labs can sign up at scienceexchange.com/list_your_lab
Activities Feed
The first thing you'll notice as a lab administrator is an activity feed of everything related to your lab: quotes requested, quotes accepted, shipping status updates, and more. This is the default view, a timeline of activity for notifications related to your storefront, request, and project pages.
Storefront Page
One of the most exciting new features is the real-time Storefront page.
This page lets labs view their storefront as it's seen by researchers, and lets administrators update their lab's services and description. Newly integrated in-line editing has been added, so you can hover over any element on the page and select the "Edit" option to update the page.
For example on the "Services" tab the edit button pops up for you to make changes to service pricing, which are immediately reflected on your page. There's no more toggling back and forth between a behind-the-scenes management area and your storefront.
Requests Page
The Requests tab on the new Storefront lets you manage both your incoming requests and past quotes.
You can now toggle between new requests that have come in and easily respond to them by priority. You can also view all past quotes submitted, helping you easily refer to past offers or reuse them for future requests. The side of each listing shows various categories and colors to delineate the status of your requests and quotes.
Projects Page
Quotes that are accepted are now listed as active orders under the Projects tab.
This designation allows you to separate the active orders from requests and track the status from active, to pending, to complete. Completed projects will be noted separately on the "Completed" tab.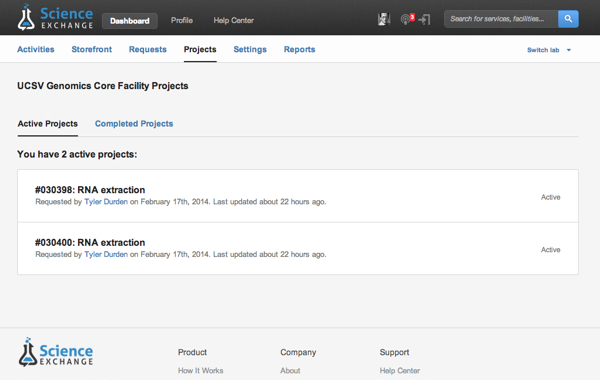 Settings Page
We've also added a Settings tab to the Storefront, helping you to make overall admin changes to your account.
Included are options for "Payment Destinations", where you can add and edit Payment Destinations for receiving payment on completed orders. The ability to add accounts is now simpler and faster.
The "Lab Members" tab lets you share your Storefront with other members in your lab.
You can add members from this page and grant them access to receive and respond to requests. We also provide the option to add another member as a fellow administrator, granting them full access to all edit, billing, and service info.
The new Settings tab includes a "Shipping Address" option. This allows you to designate a distinct shipping address, if separate from your billing address. This way when researchers ask for your address on active orders, they can easily refer to your Storefront to get their samples to you.
Finally, we've implemented initial reporting tools for the Laboratory Storefront. Current functionality includes overall metrics on your number of completed orders and ratings, as well as the view count for your online storefront. Also provided is an exportable version of all your completed orders, to integrate with your existing financial reporting systems.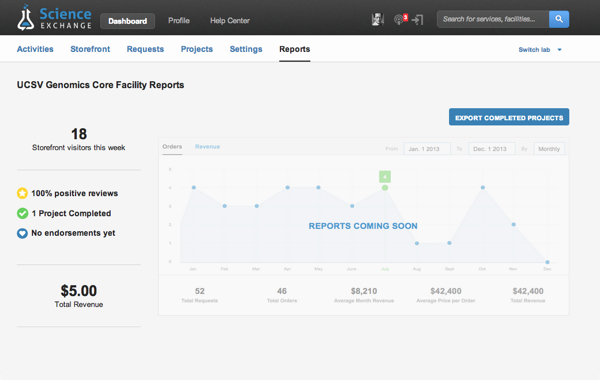 Every change we made involved careful thought about how it would impact your workflow as a lab on Science Exchange. We want to make it as quick and easy as possible to manage your orders so you can focus on the science. Simple, easy user interface means you can use your time doing the work and actively seeking new customers.
In future posts, we'll be teaching you about some new marketing services and methods to put your storefront at the forefront of new and current clients.
If you have any questions or feedback, please email [email protected]