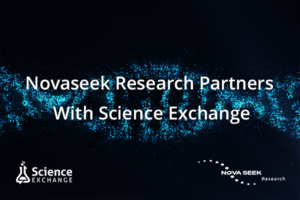 PALO ALTO, Calif., DATE – Science Exchange, the world's leading enterprise platform for outsourced research and development services and acquisition of human biospecimens, announced today its partnership with Novaseek Research Inc., a health information technology for life sciences company.
Now thousands of researchers using Science Exchange have on-demand access to Novaseek's Clinical Data Network for Research (CDNR) platform to procure biospecimens, with patient consent and authorization, and associated real-world clinical data in pursuit of accelerating medical innovation. Researchers can utilize the CDNR platform in support of discovery, translational medicine, observational and clinical studies while Science Exchange manages the contracting process and tracks analytics to report performance and process improvement.
"Our CDNR platform can help accelerate the long and costly research process by precisely identifying patient populations with highly specific characteristics, starting early in the development process and continuing throughout," said Andrei Soran, CEO of Novaseek Research. "Our partnership with Science Exchange enables clinical researchers to focus on getting medicines to market faster while Science Exchange provides operational and service support."
"The fastest path to novel platforms like Novaseek's CDNR via Science Exchange helps our leading biopharma clients to accelerate the drug development process and get important medicines to market quickly," said Elizabeth Iorns, Ph.D., co-founder and CEO of Science Exchange. "We are committed to including the best scientific providers on our platform, and Novaseek meets our stringent vetting criteria. By leveraging population analytics, they help streamline study design and free scientists to focus on innovation."
About Novaseek
Novaseek Research, Inc. is a game-changing health IT for life sciences company that provides turn-key, dynamic access to real world clinical data and biospecimens from a network of healthcare organizations. We envision a world where a clear understanding of real-world patients is central to every stage of life sciences research and drug development. For more information, please visit  www.novaseekresearch.com.
About CDNR
Novaseek's award-winning, novel, cloud platform, the Clinical Data Network for Research (CDNR), easily interfaces with hospital data sources in real time. The CDNR enables researchers to define patient cohorts through population analytics and to access consented biospecimens and clinical data to advance translational medicine, clinical development and observational studies. CDNR enables the fulfillment of complex requests, such as the collection of biospecimens and data before and after specific treatments, without burdening patients with extra blood draws or extensive medical questionnaires. This approach allows more hospitals and patients to participate in supporting biomedical research.
Talk to the Novaseek team today about your biospecimen and clinical data needs — visit their storefront and request a quote with your Scope of Work.