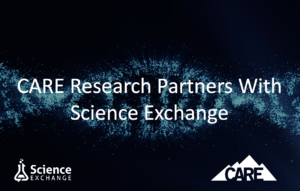 PALO ALTO, CA, March 6, 2018 – Science Exchange, the world's leading and most secure enterprise platform for outsourced research and development services, announced a partnership with CARE Research, LLC to offer online access to its preclinical services to scientists around the globe.
CARE Research, LLC is a Colorado-based contract research organization (CRO) and a foremost provider of preclinical research. The company's mission is to deliver services that are competitively priced, of superior quality, and rendered with a high degree of responsiveness that ensures ease of FDA approval.
"Our partnership with Science Exchange allows us to widen our operational reach and to find clients we wouldn't have connected with had we only used our internal resources," said Rajan Bawa, Ph.D., co-founder and CEO of CARE Research, LLC. "Additionally, the project managers with whom we have interacted are very responsive, helpful and easily available to answer any questions and facilitate sponsor interactions."
"We are excited to partner with CARE Research, LLC to make its preclinical in vivo services readily available to scientists worldwide," said Elizabeth Iorns, Ph.D., co-founder and CEO of Science Exchange. "Science Exchange is steadfastly committed to adding new innovative and qualified providers to our platform, so scientists have quick access to a breadth of research services. CARE Research, LLC met our rigorous standards for quality and compliance while demonstrating breakthrough discoveries in the field of in vivo research."
About CARE Research, LLC
CARE Research, LLC is a leader in customized preclinical studies with quick turnaround, competitive costing and humane animal handling procedures under strict regulatory compliance. Our experienced, hands-on scientists design and conduct studies that facilitate regulatory approval. Our studies enable both large and small life science companies to achieve their design and exploration goals as well as obtain marketing approval. Our services include a wide range: PK/ MTD, DART, toxicology, IND/NDA enabling studies for drugs and biomedical devices. Our clinical pathology and histopathology capabilities afford a single point of control to our study sponsors. We offer a variety of animal models including rodents, rabbits, dogs, guinea pigs, pigs, mini pigs, goats, sheep, cattle, and horses.  
Need animal studies? Submit your preclinical study scope of work to receive a quote from the CARE Research team: